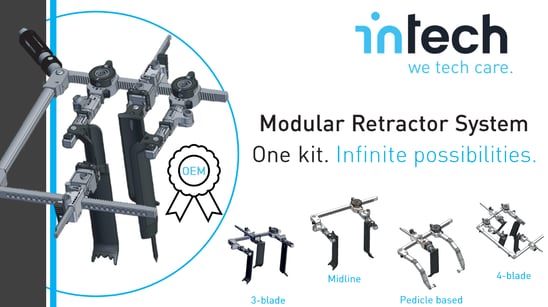 Intech
, the market leader in the manufacturing of orthopedic medical devices, today releases a fully validated system for US and EU markets that enables a variety of access to the spine for Medical Device companies and hospitals. This launch complements the introduction of the MIS lateral retractor system to address gaps in access to the spine.
"This game-changing MRS significantly enhances the safety and convenience of surgical retraction for both patients and medical staff, while its modularity and ergonomics allows surgeons for flexibility when accessing the spine" said Romain Ibled, Global Sales Director. "It is especially suitable for OEMs and Group Purchasing Organizations that aim to provide hospitals with cost-effective and state-of-the-art devices."
Solving the Most Complex Engineering Challenges in the Industry
Developed by intechLabs, in close cooperation with prominent medical device companies and skilled surgeons, the Intech Modular Retractor System was meticulously designed to provide flexibility in the Operation Room. The versatile kit enables various configurations, including pedicle based, midline or four-blade frame-based, to facilitate safe and efficient access to the Spine for implant placement.
Access our free guide today or contact our Intech Sales team to schedule an evaluation.
About Intech
Intech is a global market leader and game-changer in the manufacturing of complex orthopedic medical devices. It all starts with innovation, and nobody knows this better than Intech. With manufacturing facilities around the world and unique initiatives and savoir-faire, Intech is at the forefront of technological innovation in the field of orthopedic devices manufacturing as well as asset management, ensuring optimal patient care is delivered day in day out. This is who we are. We tech care.